The month of July 2015 is very special to the San Diego Kite Club; it is the date of their twenty firth birthday. In July of 1990 several kite enthusiasts were flying kites at Mission Bay Park and thought it might be a great idea to turn their flying sessions into a real club thing. Dan Willan took the idea to heart and formally filed all the necessary paperwork with the American Kitefliers Association. The San Diego Kite Club was officially born and Dan became its Founder and first club President.
The organization grew well beyond the original intention of flying kites with friends. It became a part of the social network of the city. Members volunteered to share the joy of kite flyng and building with youth groups, mentally and physically challenged groups, underprivileged groups, private clubs and social clubs. with members young and old. The knowledge of building and flying kites have been shared well beyond the borders or the San Diego Kites Club's flying field.
This year the monthly general meeting was held on the sands of Mariner's Point in Mission Bay Park. The weather was warm and sunny with the usual great San Diego winds. Kite flying is always a good excuse for a picnic. This special birthday meeting included a picnic of roast beef, potluck side dishes, and a beautifully decorated birthday cake.
Members flew kites of all genres including quads, dual line, fighters, gliders, and single liners big and small, and a great looking arch.
Adding another memorable moment was the reading of a proclamation by the Mayor of San Diego announcing July 11, 2015 as 'San Diego Kite Cub Day'!
Happy Birthday San Diego Kite Club, enjoy your Silver Annriversay! Wishing you many more!
David Corning
President
San Diego Kite Club
All Photos Clickable For Larger Versions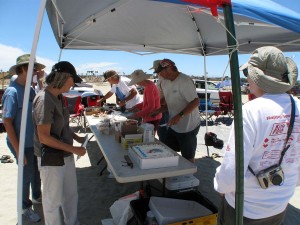 Have photos or comments you wish to add to the story or page? Send them to:
webapprentice@sandiegokiteclub.com