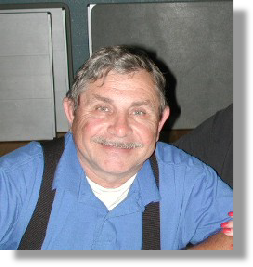 The kiting community was very saddened to learn of the death of fellow Kiter- Jim Skryja
Jim was a safety engineer for a large construction company and as such, home was where he hung his hat- hard hat that is. His assignments were of long duration and his wife Jane accompanied him . Although they would classify themselves as mid-westerners they lived in Saudi-Arabia and Japan as well as many places in the U.S, from coast to coast. Wherever the assignments took them, they took their kites.
San Diego was home to them for several years and during those years they were active members of the San Diego Kite Club. When the term "active" is used, it is almost an understatement. Jim was a volunteer-extraordinaire. He became treasurer of the club- but he himself was a treasure for the club. Jane was an equal participant and the club secretary. They were an extremely generous couple, both with their time and money. They opened their home for board meetings, parties and a place where workshops were held. Their guest room was offered and used by guest workshop presenters and visitors from out of town and country. Jim furnished raw materials for simple kites for children and helped children build and fly kites. I am sure that this activity was repeated in the many places where they lived. Jim also was active in other activities and was a model train enthusiast as well as a sports fan.
The Skryja's left San Diego for an assignment in New York. Although Jim flew and owned all types of kites, he wasn't into competition flying and was happy to just be flying. He had a quiet charm about him- he didn't talk a lot about what needed to be done-he just did it! The San Diego Kite Club members are grateful for the years he called San Diego home.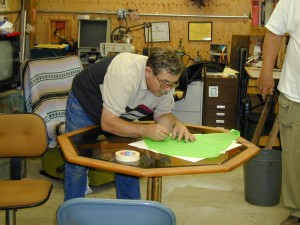 Jim working on a kite during a workshop he hosted at his home.
Jim, and his wife Jane, hosted workshops on several occassions.
by JoAnne M'Clary