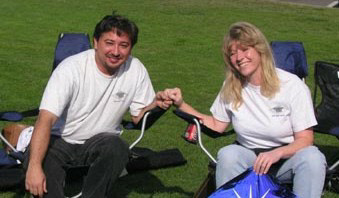 Two of the nicest folks you'll ever meet are Norm Howard and Shari Gigler. They are always smiling when they come to the SDKC meetings. The two met each other while working in the same building. They ran into each other frequently while on their breaks. Shari currently works for Fireman's Fund Insurance as a Personal Insurance Underwriter. Norm works as a Technical Writer at Northrop Grumman."
Norm got interested in kites about 10 years ago the same way as many of us have-
he noticed the kites on Mission Bay Drive . He recalls what he saw was nothing like the kites he remembers as a kid. From there he went to Kite Country. As for Shari-
she had been going through a difficult time "as we all do" she says, and Norm invited her to fly a kite one weekend. They have been flying kites and have been together ever since.
"Our first date," they say "was actually flying kites and drinking rum & coke." In addition to kite flying they also enjoy camping, astronomy, various arts and crafts, video games. And of course, they collect cows. (?) I guess we'll have to ask for an explanation on that one.
Both have been active in the club. Norm was Treasurer for 2 years and Shari was Secretary during the same two years.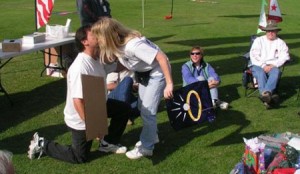 When asked about their favorite kites they
 resoundingly exclaim "Rev's!" Norm
 finds his kiting inspiration in "watching Ron (Despojado) flying a Rev." While Shari's inspiration is just flying with friends and being glad that Rev's have brakes
They mutually share the same favorite memory in kiting. Back in December 2003 at the SDKC meeting Norm had arranged a surprise for Shari . With the help of Ron Despojado running the raffle, Norm had Ron call out a winning ticket of his. When Norm opened the box inside was a fighter kite, but not just any fighter kite. As he was opening it Norm had explained how he got into kites and how he shares his passion of kites with Shari . Then he revealed the kite which had a diamond ring on it- got down on one knee, and asked Shari to marry him. After she said yes he gave her the kite. I think he eventually got her a REAL ring, but we don't know who claims ownership of the kite. Shari says she can't believe the planning that went into the proposal, and that no one spilled the beans.
In summing up their feelings about the club they say, "It has been a pleasure to be a part of the club. We have always been impressed with how warm and welcoming the club members are and how easily the words 'here, fly it' seem to come out. We both cherish the friendships we have made, and will always remember all the great times we've had with all of you." As for their future plans all they want to do is buy more kites and fly more kites.
The club thinks you guys are pretty cool too!
Article by Dave Harris