It all began

with an email from Montana. Carol Tye asked if anyone could help her locate a hummingbi

rd kite. Her daughter-in-law, a heart transplant recipient, wanted to fly such a kite on the 1 year anniversary to honor the heart donor and his family. Rick, our webmaster apprentice, responded first that he may

have a hummingbird diamond kite

and would look for it. Carol had mentioned her son and daughter-in-law live in San Diego, I extended an invitation to meet with the kite club.

That's how it started!

 
We met Kelli and Pat at the field before the meeting. Rick already had them flying a pair of sled kites he had made especially for this occasion.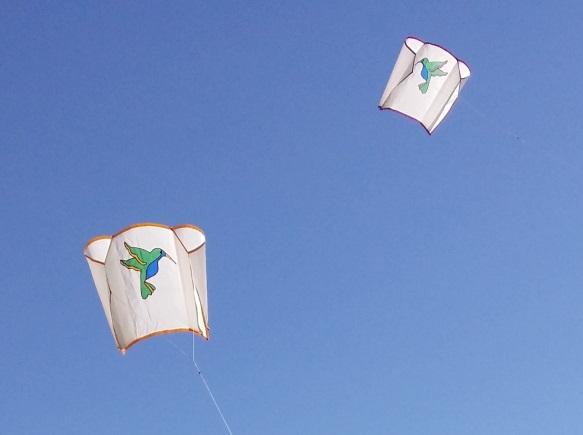 Which was a good thing; the winds were not holding the large diamond kite or my paradise bird kite aloft for very long. Dave L's hawk kite soared high above the hummingbirds, other club members decorated the skies with various kite shapes. The club spread good wishes and cheer among our guests and their family. It was great to see Kelli and Pat enjoying themselves so much as they flew their new kites.
During the meeting Kelli introduced herself and her family, and then explained why hummingbird kites. This bird had appeared in a dream right after her transplant surgery. A real hummingbird had entertained her outside her window while she was bedridden during recuperation. She accepted this as a way to memorialize her heart donor and celebrate the year since her surgery. The San Diego Kite Club was honored to share this moment with Kelli and Pat, and their family.
I can't think of many ways of celebrating life itself better than with a moment of kite flying. We battle life day by day and the bumps in the road sometimes become potholes. Some of our members have endured cancer, chemo, heart attacks, strokes, and addiction. A kite gives us that moment to appreciate another day we have on earth, to languish in the weather of a beautiful day, and share that day with friends.
That's the story of Kelli and the hummingbird kites. Now, get up out of the computer desk chair and go fly a kite!
Dave Corning, 'kitepilot'
SDKC President