Before the New Years Day Fly there is the New Years Eve Day Fighter Kite Challenge.
_We have two classes of competition:
_The Club Class where everyone flies the same style of kite, which changes every year. _This year we flew Fusion Fighters.
_Second is the Open class where everyone flies their favorite fighter kite.
_This year we had a beautiful afternoon with good winds for kite flying. You should have been there!
All Photos Are Clickable For A Larger Version
This year Dave Corning won the Club Class and gets the coveted Paper Dragon Trophy (which he also happens to build).
This year Roger Carlson won the Open class with a Vic's Fighter and gets his name on the Perpetual Trophy yet again.
New Years Day 2016 Annual Kite Fly
_If you missed this years fly you missed a good one.
_It was warm, sunny, and good winds started up about lunch time which gave everyone time to wake up before flying.
_We had a pretty good crowd with old faces, new faces, hometown and out of town faces.
_We had a great Pot Luck Lunch.
_We had lots of flying and Yacking.
_We made Frustrationless Flyers for Kids and Bubble Wrap Jelly Fish kites for the adults.
_If you weren't there we assume you had a good reason but shame on you.
The adults (well some at least) made Bubble Wrap Jelly Fish Kites. More Photos Here!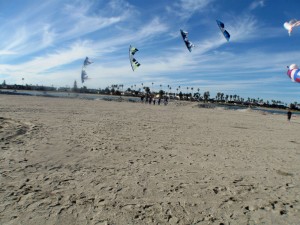 _So what was missing? You! Maybe next year.